Sourcing for new opportunities can be a tedious and time-consuming process. Here at DiligenceVault, we aim to minimize the friction and pain points that managers and investors typically face by streamlining the process in an easy and digestible manner, all within one platform.
What is an opportunity?
An opportunity on DiligenceVault is a time bound RFP/RFI that has been issued an investor/investment consultant. There are 2 ways to access to an opportunity if you are an Asset Manager:
You have an opportunity URL that you have received from a potential investor or found a URL listed on their website
View the full list of open opportunities listed on the Investor Pitch page on the platform
Why on DiligenceVault?
When you apply for an opportunity through our platform, you are able to utilise all of your content in your Q&A Library, Documents and much more. Additionally, you can easily collaorate with your colleagues to ensure that you and your team submits the best responses.
As the questions posed in the opportunities are customised by the investor, that means they will be receiving the necessary information that they will need to kickstart the campaign process, eliminating the back and forth that is typically faced if insufficient data is provided by managers.
You can also track when the investor has started reviewing your submission on the platform.
How to Access an Opportunity?
(1) New Opportunities Available through a URL from an Investor:
If you have received a URL to an opportunity/campaign from a potential investor or from a website, please watch this video on how to proceed:
(2) New Opportunities Available within DiligenceVault:
Go to "New" > "Investor Pitch"



You will be presented with a list of investors and the number of opportunities that are currently available within that investor firm. Identify the investor that you are interested in an click on the "View" button next to that firm to view the full list of opportunities that they are currently offering.



On this page, click on "Select Opportunity" from the dropdown menu and you will be presented with a list of opportunities that you may choose from. Identify the opportunity that you are interested in and you will be presented with a description. You will be prompted to input the As Of Date and the type of Submission that this pitch is for (only if the investor has not selected a choice). When you are ready, click on Next and you will be lead to the Questionnaire page of the opportunity.

After completing the opportunity questionnaire, remember to submit the pitch once you are done!
Note: If you have received a link from an investor to submit your pitch, clicking on the link will bring you directly to step 3 above.
FAQs on Opportunity Vault
How can I see my historical pitches?
To see your historical pitches, head over to Diligences > Projects page for the Projects Monitor. From here, filter out the Type by searching for Opportunity. If you do not see the opportunity that you are looking for, head over to the "All" tab and select the relevant date range.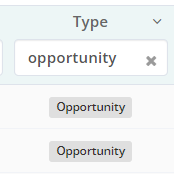 Can I apply more than once?
Yes, you can certainly apply to more than once! The world is your oyster so go ahead and pitch to any (or all!) of the opportunites that you believe investors will be interested in.