Our philosophy is to encourage & support collaboration with all of the modules we offer. If you have any questions about these modules, please reach out to us at ask@diligencevault.com.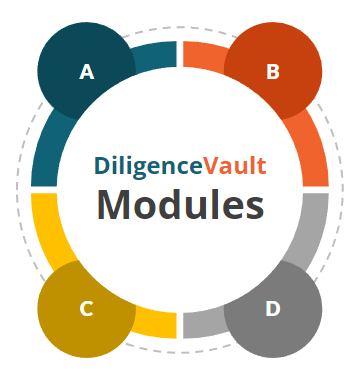 A. Digital Diligence
Digital Diligence module is all about data collection. See more articles here.
DDQ Customization & Digitization

Profiles, Pipeline Tracking, Tasks, Ratings, Notes

Team Collaboration, Workflow Automation

Comparisons, Heatmaps, Scoring

PowerBI Dashboards for Enhanced Analysis
B. Review & Report. See more articles here.
Multiple DDQ Mapping for Data Compilation

Analysis Templates for Summation

Reporting Review / Approval Sign-offs

Populate Custom Factsheets and Reports

Client-Ready Report Writing
C. Regulatory (Form ADV). See more articles here.
Platform View and Email Alerts for ADV Changes
Firm / Fund Profiles
Fund Ownership and Flags
ADV Portfolio Extract
Portfolio / Service Provider Visual Analytics
D. Opportunity Vault. See more articles here.
Make it Easy for Managers to Submit and Track Pitches

Simplify Screening Analysis with a Digital Inbound Management Process

Easily Source, Review and Analyze all New Managers

Conduct Digital RFP/RFI and Searches